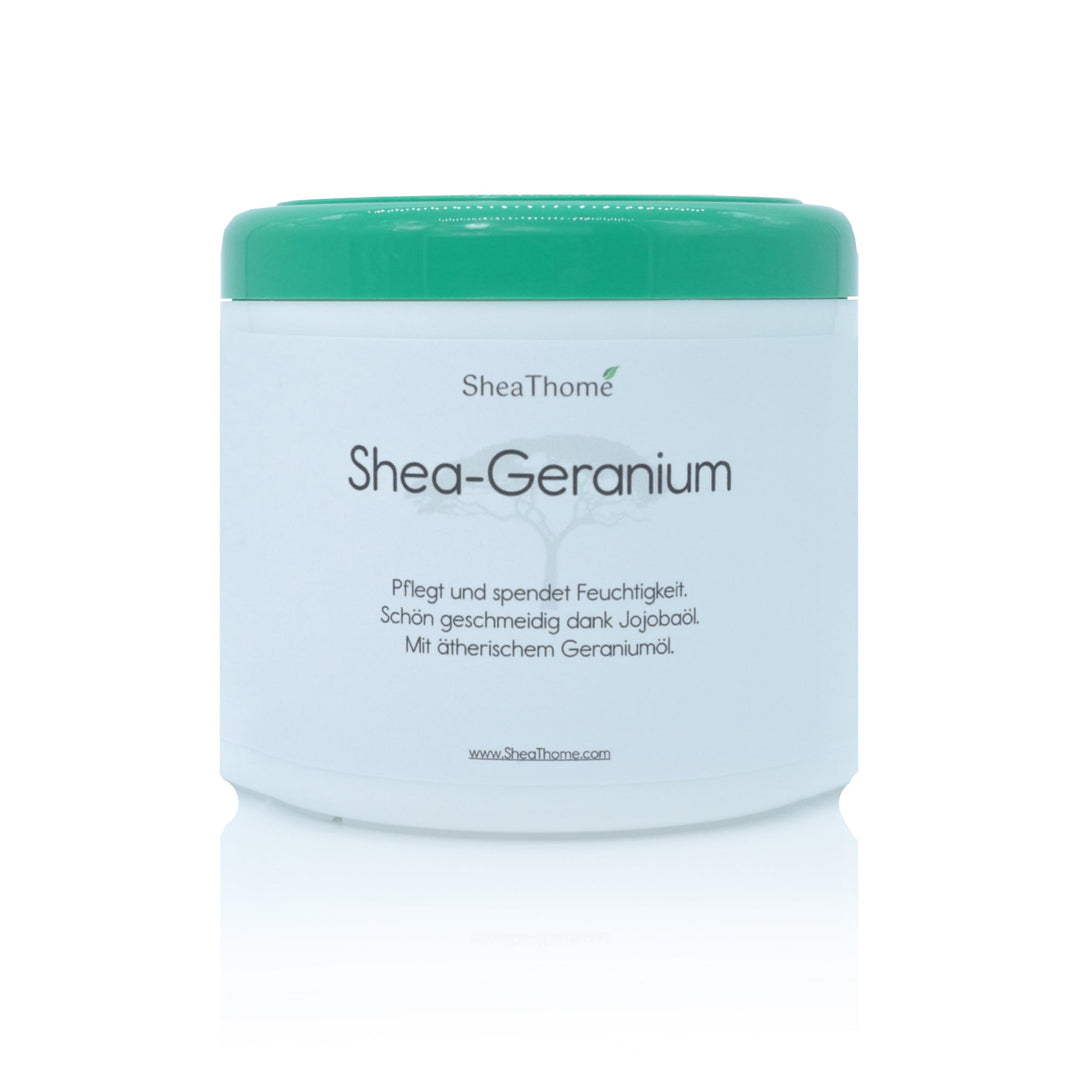 Shea geranium
Regular price
$17.00
Tax included.
Shipping
calculated at checkout.
---
Pure shea butter with high-quality geranium essential oil
With rich jojoba oil for dry and stressed skin
Floral-fresh geranium is slightly reminiscent of the sweet scent of roses
Unrefined wild shea butter with jojoba oil, cold-pressed, and natural essential geranium oil. A mixture of 3 high-quality natural products. Particularly suitable for use on dry and uneven skin. Geranium oil in particular is said to have positive physical and psychological effects.
Due to the many biologically active ingredients, geranium oil can be used against a variety of health problems.
Anti-inflammatory and antibacterial. These two modes of action of geranium oil make it an optimal remedy for pimples and acne. Thanks to the astringent effect, cellulite can also be prevented and treated. The oil has an astringent effect and thus combats the typical orange peel.
Since geranium oil is said to have an antidepressant and uplifting effect, this scent is particularly beneficial to us in the cold season. Keyword "winter depression". Geranium oil also has a mood-balancing effect. It calms us down when we are stressed and stimulates us when we are depressed.
Shea geranium – this is how your skin benefits
Shea butter moisturizes and keeps your skin beautifully smooth and soft
Jojoba oil supports your skin's barrier layer
Geranium essential oil caresses your skin and surrounds it with a lovely scent
Product details
INCI : Butyrosperum parkii butter (shea butter), Simmondsia chinensis (jojoba oil), Pelargonii odorantissimi (geranium essential oil)
Shelf life : 24 months after opening / see imprint

Our Shea-Geranium Cream is a careful combination of the purest, unrefined wild shea butter, high-quality jojoba oil and pure, natural essential geranium oil. Three first-class natural products that are particularly suitable for dry and demanding skin.

Geranium oil is known for its anti-inflammatory and antibacterial properties, making it ideal for combating pimples, acne and cellulite. It also has a balancing and mood-enhancing effect, which is particularly beneficial in stressful times.

Pamper your skin with the best of nature and experience the floral freshness of shea geranium. Your skin will love it.
INCI: Butyrosperum parkii butter (shea butter), Simmondsia chinensis (jojoba oil), Pelargonii odorantissimi (geranium essential oil)
Shelf life: 24 months after opening / see imprint