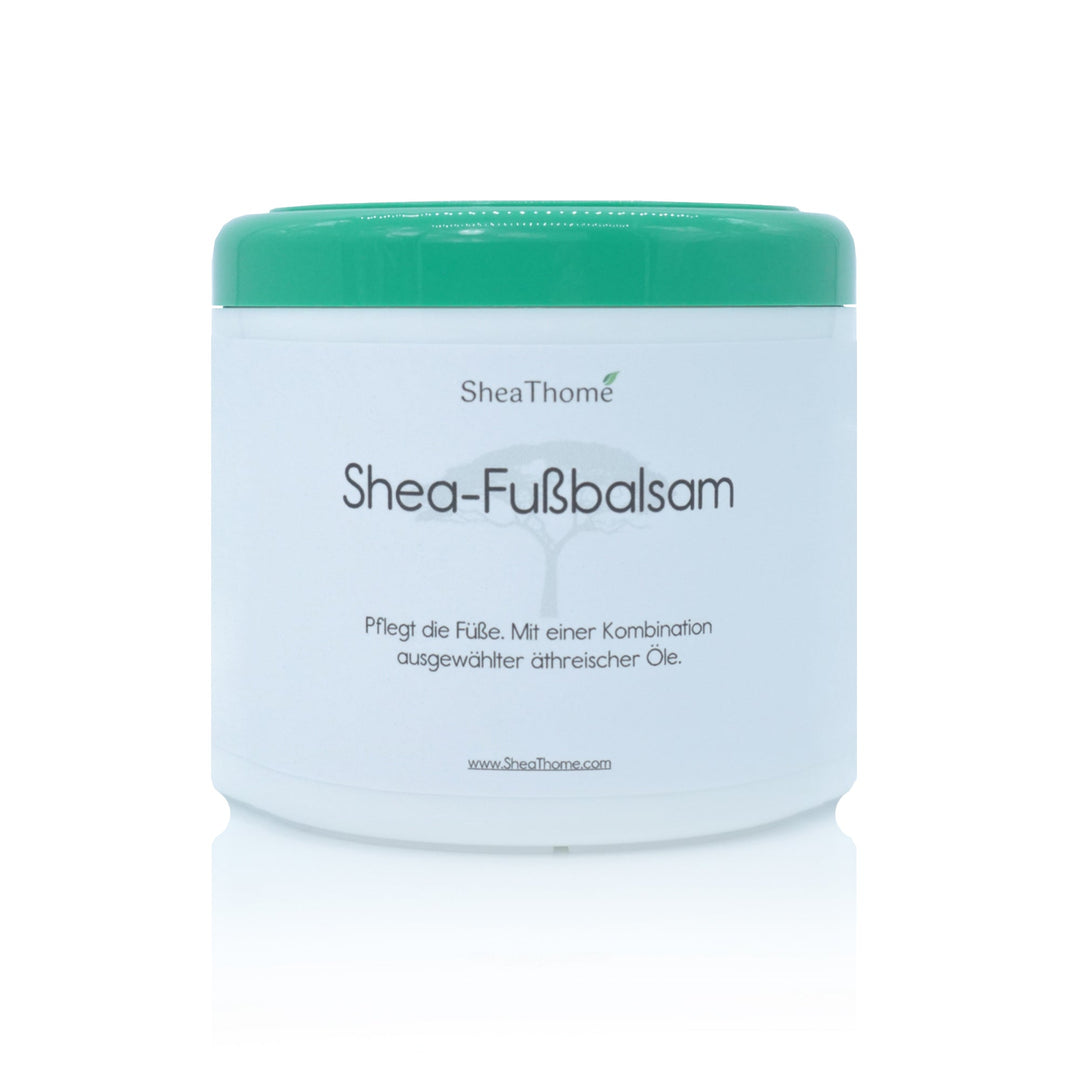 Shea foot balm
Regular price
$17.00
Tax included.
Shipping
calculated at checkout.
---
Das hat geklappt. Sobald das Produkt verfügbar ist, erhältst du umgehend eine E-Mail. 🥳
⚠️ Das hat leider nicht geklappt. Bitte versuche es erneut.
ERHALTE EINE BENACHRICHTIGUNG, SOBALD DIESES PRODUKT WIEDER LIEFERBAR IST
Benachrichtige mich
A soft, nourishing foot balm for dry and stressed feet
Based on pure unrefined shea butter with nourishing jojoba oil
With a combination of valuable essential oils
They carry us throughout life - our feet. With 26 bones and around 30 muscles, they are indeed a small masterpiece. That's why our feet deserve special care. With our foot balm you can offer your tense feet a pleasant break. For example with a relaxing foot massage. It's not just the muscles that are loosened.
The cornea also becomes nice and soft again. Various natural essential oils such as lavender oil and geranium oil promote blood circulation and cell regeneration, as well as the general well-being of the foot. Shea butter and jojoba oil promote suppleness and make your feet nice and soft again.
Shea foot balm - this is how your skin benefits
Soft feet because shea butter penetrates deeper layers of the skin
Dry skin and calluses become velvety soft again
The combination of selected, valuable essential oils is not only good for the feet, but also for the mind
Product details
INCI: Butyrosperum parkii butter (shea butter), Simmondsia chinensis (jojoba oil), caprylic/capric triglycerides (neutral oil), Lavandula angustifolia (lavender essential oil), Pelargonium odorantissimi (geranium essential oil), Citrus limon (citron essential oil), Melaleuca alternifolia (tea tree essential oil)
Shelf life : 24 months after opening / see imprint

Pamper your feet with our gentle shea foot balm, which was specially developed for dry and stressed feet. This foot balm is based on pure, unrefined shea butter, which is enriched with nourishing jojoba oil and a select blend of valuable essential oils.

Our foot balm contains a carefully selected blend of essential oils. Lavender oil calms and relaxes, while geranium oil refreshes and lemon oil invigorates. The antiseptic tea tree oil contributes to the health of your feet. These essential oils not only give the balm a wonderful scent, but also promote the overall well-being of your feet and mind.

Our feet carry us throughout our lives and therefore deserve special care. Our foot balm is perfect for relaxing foot massages to loosen muscles and soften calluses. Give your feet the attention they deserve and see how they become soft and supple again.
INCI: Butyrosperum parkii butter (shea butter), Simmondsia chinensis (jojoba oil), caprylic/capric triglycerides (neutral oil), Lavandula angustifolia (lavender essential oil), Pelargonium odorantissimi (geranium essential oil), Citrus limon (ciron essential oil), Melaleuca alternifolia (tea tree essential oil)
Shelf life: 24 months after opening / see imprint