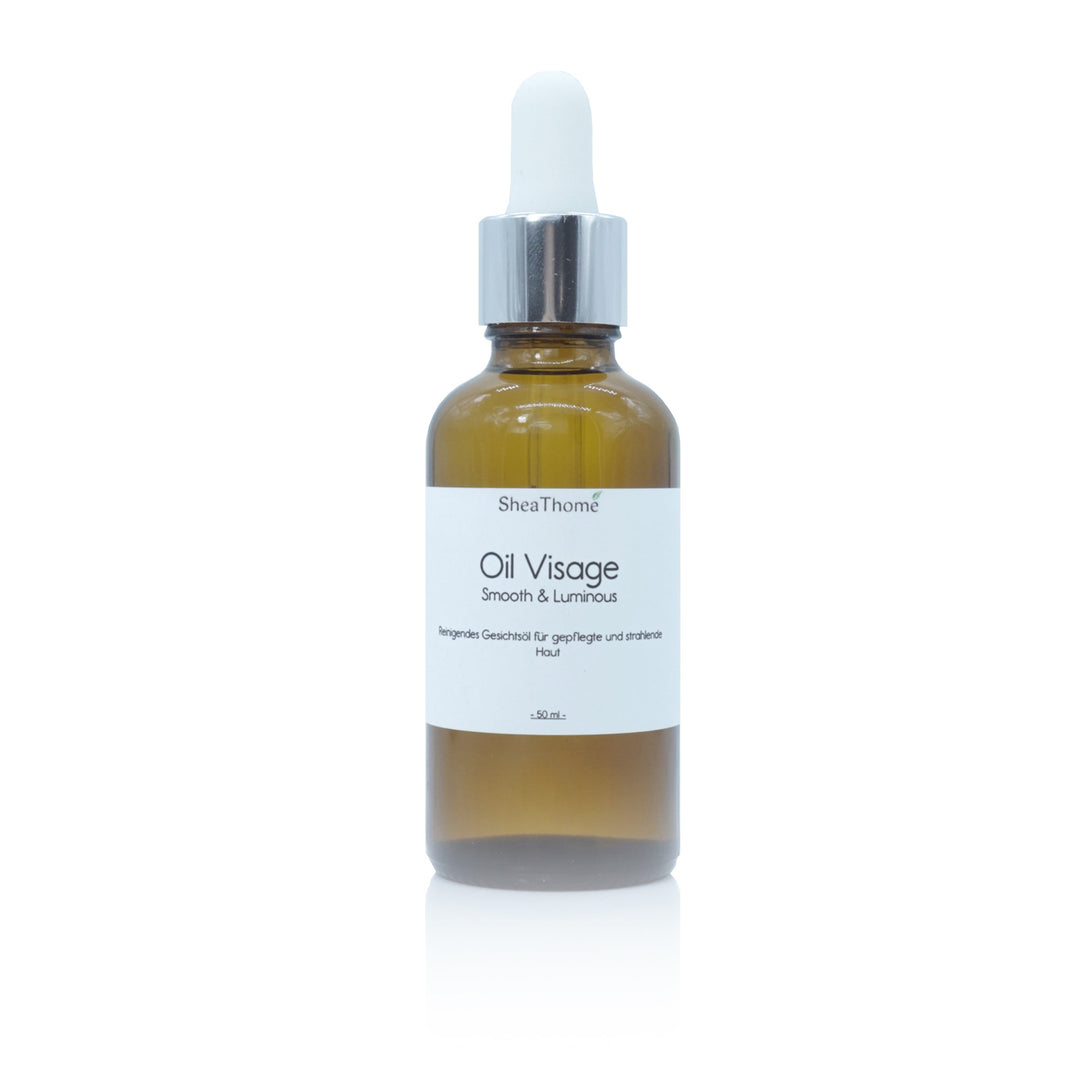 Oil Visage Smooth & Luminous
Regular price
$15.00
Tax included.
Shipping
calculated at checkout.
---
Das hat geklappt. Sobald das Produkt verfügbar ist, erhältst du umgehend eine E-Mail. 🥳
⚠️ Das hat leider nicht geklappt. Bitte versuche es erneut.
ERHALTE EINE BENACHRICHTIGUNG, SOBALD DIESES PRODUKT WIEDER LIEFERBAR IST
Benachrichtige mich
Organic argan oil and jojoba oil moisturize and prevent impurities
Vitamin E neutralizes free radicals and thus promotes the regeneration of skin cells
The pleasantly subtle scent refreshes and invigorates the senses
Nourishing facial oil with organic argan oil. Thanks to the oleic acids and valuable vitamins it contains, the sensitive facial skin is supplied with important nutrients. Just a few drops distributed on the face ensure radiant skin. The light, refreshing scent of blood orange invigorates the senses. Give your face a new glow. Our Oil Visage contains valuable oils that provide your face with moisture and vitamins and slightly tighten the skin. Treat yourself to luxurious facial care that provides your skin with what it needs.
Apply the Oil Visage to clean facial skin. Then continue with your care routing.
Oil Visage Smooth & Luminous - this is how your skin benefits
Revitalization of stressed and dull facial skin
Neutralization of free radicals
Stimulating cell regeneration

Product details
INCI : Simmondsia chinensis (jojoba oil), Argania spinosa (argan oil), tocopherol (vitamin E), squalane, Citrus sinensis
Durability : see print
Contents : 50 ml
Our Oil Visage is a gift to your sensitive facial skin. This nourishing facial oil contains high-quality organic argan oil and jojoba oil that moisturize and prevent breakouts.

Organic argan oil is rich in oleic acids and valuable vitamins that provide your skin with essential nutrients. Jojoba oil supports the skin in regeneration and ensures a radiant complexion. Vitamin E neutralizes free radicals, promotes the regeneration of skin cells and protects against environmental influences.

Our Oil Visage has a pleasantly subtle blood orange scent that refreshes and invigorates your senses. It leaves your skin radiant and revitalized.

Simply apply a few drops to your cleansed facial skin and experience how your complexion revives. Our facial oil provides the skin with moisture and vitamins and gently firms it. Treat yourself to luxurious facial care that provides your skin with everything it needs.
1. Cleansing: Start your facial care routine with a thorough cleansing. To do this, use your usual cleaning product to remove dirt and makeup.

2. Apply Oil Visage: After cleansing, when your skin is still slightly damp, apply 2-3 drops of Oil Visage to your fingertips.

3. Gently massage: Distribute the oil evenly over the face. Massage gently with upward movements. This promotes blood circulation and the absorption of valuable ingredients.

4. Avoid the eye area: Avoid direct contact with the eyes. You can use a special eye care product instead.

5. Final care: After the oil has been absorbed, you can use your usual day or night care.

Note: You can integrate the Oil Visage into your routine in the morning and/or evening. Depending on your skin needs, it can be applied before or after your regular moisturizer. If you are new to facial oils, start with a lower application frequency and increase as needed.

Tip: A few drops of Oil Visage can also be added to your foundation or makeup for a natural glow.
INCI: Simmondsia chinensis (jojoba oil), Argania spinosa (argan oil), tocopherol (vitamin E), squalane, Citrus sinensis
Durability: see print
Contents: 50 ml