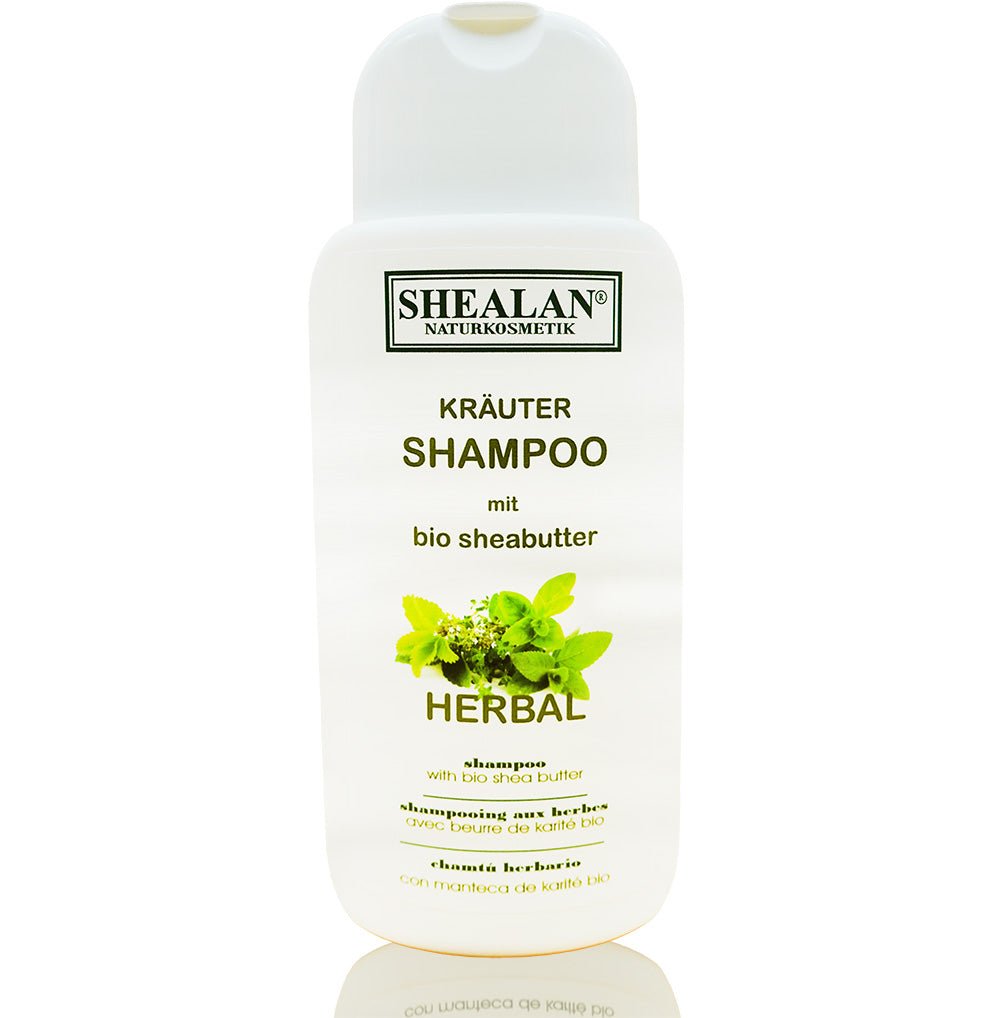 Herbal shampoo HERBAL
Regular price
$8.00
Tax included.
Shipping
calculated at checkout.
---
Rich shampoo for every hair type
With nourishing shea butter and the finest herbs
Soothes stressed scalp
Sha butter and mild detergent ingredients ensure a natural shine and make the hair supple. Valuable plant extracts such as fennel, rosehip and rosemary have a calming effect on the scalp.

Herbal shampoo HERBAL - this is how your hair benefits

Provides your hair with moisture
Makes hair appear fuller and more manageable
Supports the hair's long-term growth and health
Product details
INCI: Aqua, MIPA-Laureth Sulfate, Cocamidopropyl Betaine, Sodium Lauryl Glutamate, Butyrosperum parkii (Shea Butter), Sodium Cocoyl Hydrolized Wheat Protein, Rosmarinus Officinalis Extract, Glycine Soja Extract, Foeniculium Vulgare Extract, Rosa Canina Seed Extract, Punica Granatum Seed Extract, Sodium Benzoate, Hippophae Rhamnoides Berries Extract, Potassium Sorbate, Fragance Fernesol*, Geraniol*, Limonene* Lanolool*, Citral*
*Natural perfume composition
Contents : 200 ml
Are you looking for a shampoo that is suitable for every hair type and at the same time offers rich care? Then our herbal shampoo HERBAL is the perfect choice for you!

Our unique formula combines mild detergent ingredients with nourishing shea butter. The result? A natural shine, supple hair and a soothed scalp.

Selected herbs such as fennel, rosehip and rosemary have been selected to soothe your scalp and pamper your hair.

The benefits of this herbal shampoo for your hair: intensive moisturization thanks to the shea butter, fuller hair for more volume and grip, as well as the promotion of healthy hair growth.
INCI: Aqua, MIPA-Laureth Sulfate, Cocamidopropyl Betaine, Sodium Lauryl Glutamate, Butyrosperum parkii (Shea Butter), Sodium Cocoyl Hydrolized Wheat Protein, Rosmarinus Officinalis Extract, Glycine Soja Extract, Foeniculium Vulgare Extract, Rosa Canina Seed Extract, Punica Granatum Seed Extract, Sodium Benzoate, Hippophae Rhamnoides Berries Extract, Potassium Sorbate, Fragance Fernesol*, Geraniol*, Limonene* Lanolool*, Citral*
*Natural perfume composition
Contents: 200 ml