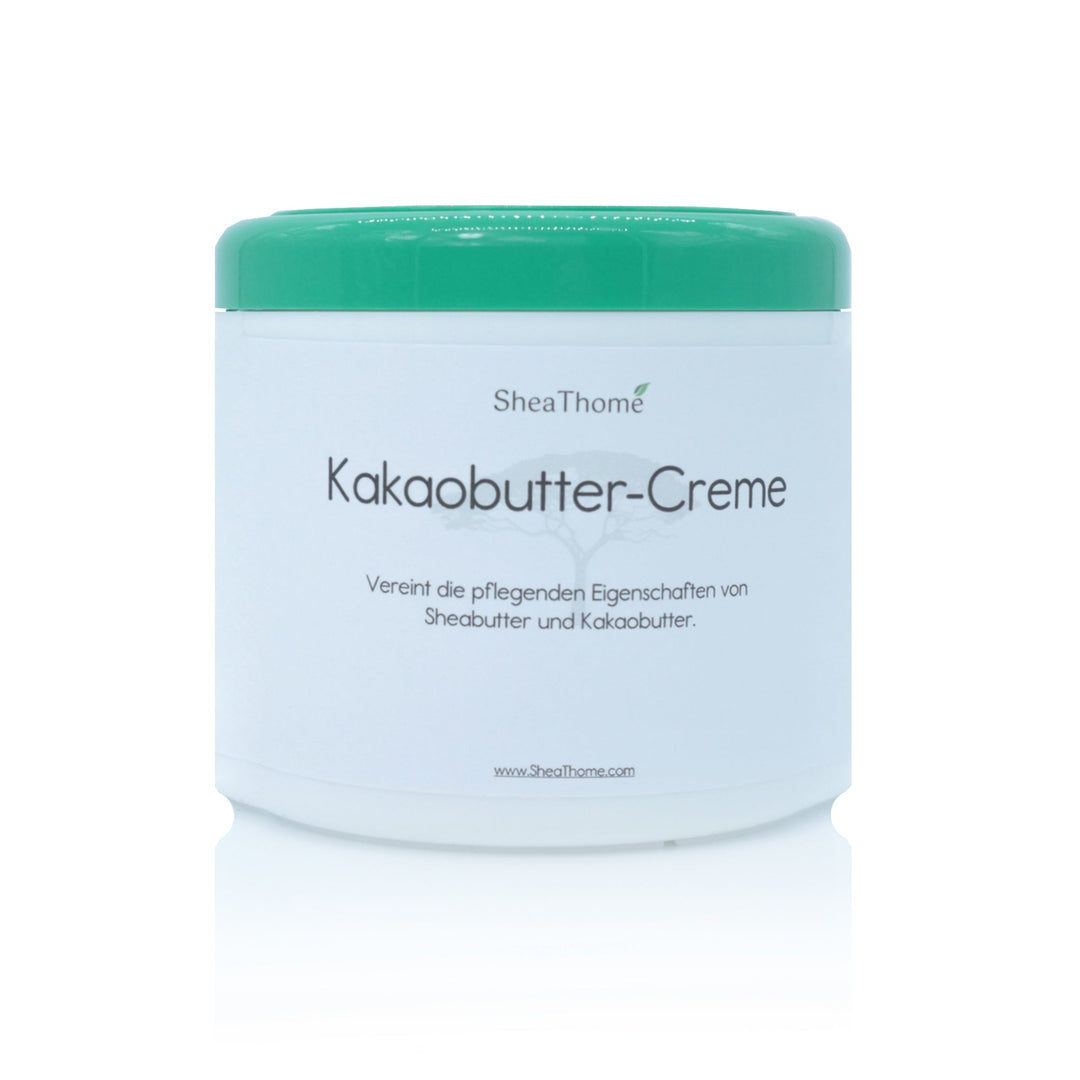 Cocoa butter cream
Regular price
$17.00
Sale price
$15.00
Tax included.
Shipping
calculated at checkout.
---
Das hat geklappt. Sobald das Produkt verfügbar ist, erhältst du umgehend eine E-Mail. 🥳
⚠️ Das hat leider nicht geklappt. Bitte versuche es erneut.
ERHALTE EINE BENACHRICHTIGUNG, SOBALD DIESES PRODUKT WIEDER LIEFERBAR IST
Benachrichtige mich
Nourishing shea butter and valuable cocoa butter combined
Wonderfully fragrant cocoa butter cream with a light cocoa scent
Nourishes the skin very softly and ensures a pleasant feeling on the skin
Also suitable for lip care!
Made from shea butter and the finest cocoa butter, our cocoa butter cream combines the nourishing properties of both products. Thanks to the natural cocoa butter scent and the addition of fragrant perfume oil, you won't want to stop smelling the cream. A full-bodied, yet subtle scent of cocoa or chocolate fills the entire nose.
Thanks to the jojoba oil it contains, the cocoa butter cream is pleasant to spread on the skin. It supplies the skin with moisture, important nutrients and vitamins and protects it from environmental influences such as cold and dry air. The cocoa butter cream is also particularly suitable for lip care. It is very popular with dental practices.
Cocoa butter cream - this is how your skin benefits

Cocoa butter cream provides your skin with moisture – sustainably and for a long time
Shea butter and cocoa butter provide important elements for skin regeneration
Thanks to the jojoba oil, the cocoa butter cream is very soft on the skin and easy to spread
Product details
INCI : Butyrosperum parkii butter (pure, unrefined shea butter), Theobroma cacao (cocoa butter), Simmondsia chinensis (jojoba oil), perfume
Shelf life : 24 months after opening / see imprint

In our cocoa butter cream, the nourishing powers of shea butter and cocoa butter merge to create a true pampering treatment for your skin. This cream not only captivates your senses with its gentle cocoa scent, but also nourishes your skin exceptionally softly and gives you an incomparable skin feeling.

The natural scent of cocoa butter makes this cream an olfactory experience. A full-bodied, yet subtle touch fills your senses with every use.

Thanks to the jojoba oil it contains, the cocoa butter cream can be easily spread over the skin. It provides your skin with intensive moisture, important nutrients and vitamins. This protects it from the influences of the environment, be it the cold of winter or the dry air. This cream is also ideal for lip care and is even appreciated by dentists.
INCI: Butyrosperum parkii butter (pure, unrefined shea butter), Theobroma cacao (cocoa butter), Simmondsia chinensis (jojoba oil), perfume
Shelf life: 18 months after opening / see imprint