Women's cooperative in Ghana - how you can support the independence of women in Ghana with your skin care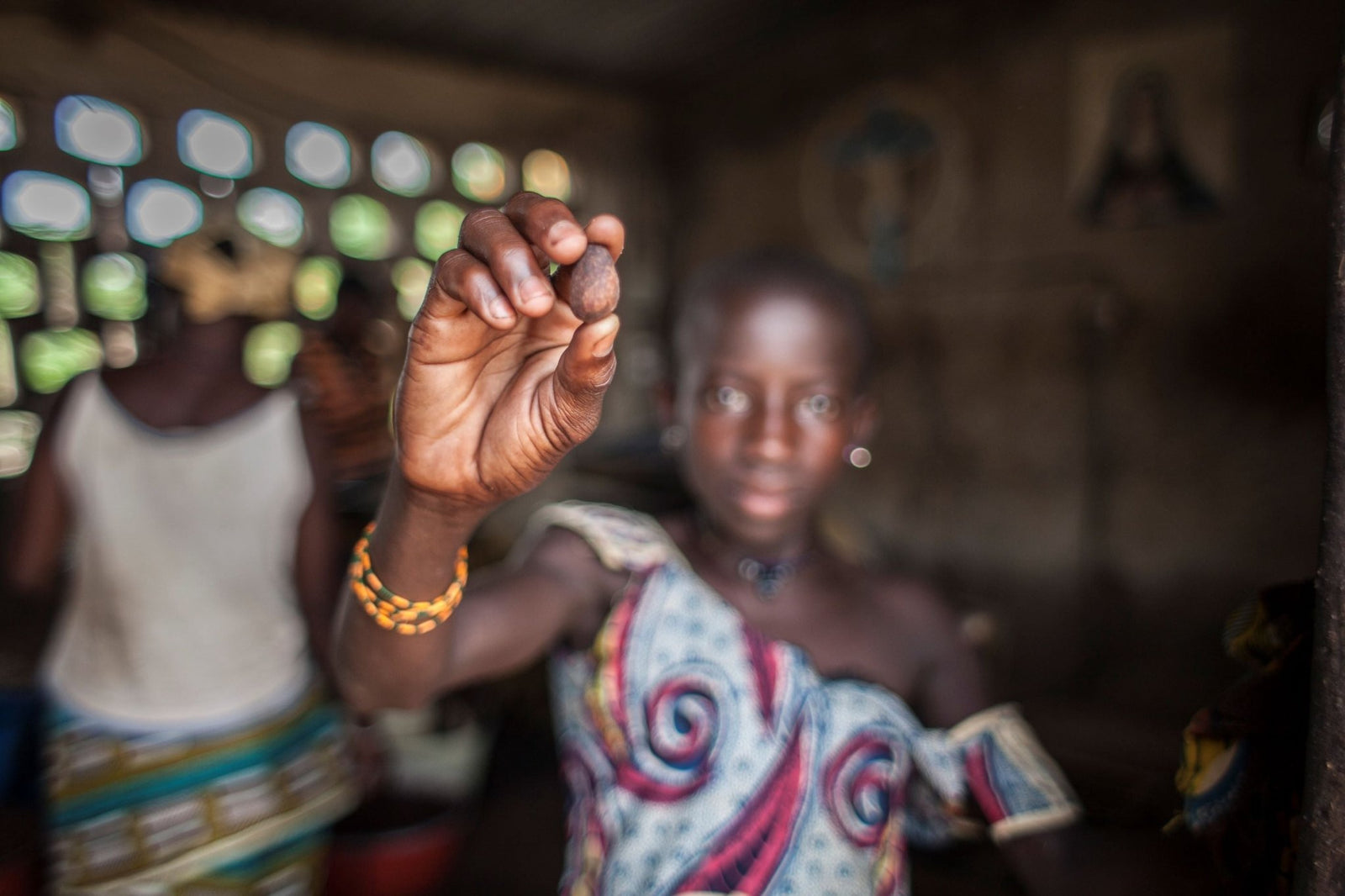 We only process selected and highest quality raw materials for you. The best way for us to do this is to be in close contact with the people who harvest our raw materials first hand. It is important to us to support local and small businesses.

For our most important raw material, our shea butter, we rely on 20 years of intensive collaboration with a women's cooperative from the north of Ghana. The city where the women's cooperative is based is called Tamale, which translates as the "city of shea fruits".
During this time, we were able to realize joint projects and sustainably support the women's cooperative in a variety of ways. One of our first projects was to equip the women's cooperative with a modern heavyweight scale. Despite implementing numerous joint projects, we have the feeling that we can do more together with you.
The women's cooperative - not just a supplier, but a foundation of SheaThomé
The harvest and processing of wild shea butter has always been traditionally reserved for women. Over time, this traditional work has developed into an association of women who plan, carry out and sell the harvesting and production of shea butter together and independently. The women's cooperative with which we have the privilege of working is located in the north of Ghana.
The woman who runs the women's cooperative is called Rabiatu. She coordinates the collection and processing of the shea nuts. With around 30 employees, her small business is highly specialized. Since the beginning of our cooperation, we have been in regular contact with Rabiatu. She sees her work as head of the women's cooperative as a way to provide women in Ghana with a secure source of income.
In our 20 years of collaboration, a trustworthy partnership has developed. Our relationship with the women's cooperative is not just limited to a business level. It is characterized by mutual respect and friendly exchange. Wherever we can, we also support the development of the women's cooperative. We were recently able to organize a modern oil press and thus advance production and strengthen the competitiveness of the women's cooperative.
In the following section you will find out how the shea butter gets from the collectors via Rabiatu to your home.
The path of our shea butter – working under the shea tree
Rabiatu works with a network of over 5,000 experienced collectors. These foragers wander through the savannahs of Ghana during the harvest season and specifically look for only the finest shea nuts. Every collector has her own collecting area, where it is not uncommon for her to even come across an elephant or a zebra. Only when the collector's basket is filled with the ripe shea nuts do the collectors begin the journey back to Tamale, the city of shea fruits.
The freshly collected shea nuts from the savannah are then stored at Rabiatu under suitable conditions. The next morning, the shea nuts are taken out of the warehouse by the women's cooperative. The shea nuts are cracked, the pulp removed and then dried in the African sun. The seeds are uncovered and ground in a large mortar under heat to form a cream-like mass. The mass is then carefully cleaned by hand with fresh water until pure shea butter appears.
As soon as the shea butter reaches us, it is sifted again, cleaned and refined with valuable vegetable and essential oils. The shea butter is then filled into the jars by hand using our unique filling process. This is guaranteed by the smooth texture of our shea butter.
As you can see, our nourishing shea butter takes a special journey before it gets from the tree to your skin.
If you've read this far, then you probably already have a pretty good idea of ​​how our shea butter finds its way to you. In the following section you will find out why the women's cooperative is so important for women and what added value it offers them.
Not just a job, but a solid support in life
Working in a women's cooperative is an important source of income for many women. The man's income alone is often not enough to cover the costs that arise in everyday life. In addition to the financial security that working in a women's cooperative offers, the social aspect is also important. Many of the women employed live in the immediate vicinity of the production facility. This is why working together is different from conventional workplaces. It's almost more than a neighborly relationship. Problems and worries are shared with each other and people help each other in various situations. So we cook and eat together every day. A popular dish is kenkey - dumpling-like fermented corn, with "shitto" - a spicy sauce and fresh tilapia, a fish very common in tropical waters.
Another positive aspect is that families can pay school fees for their children. Education is compulsory in Ghana. In principle, school attendance is free. However, the children then only go to school for two weeks at a time and then miss two weeks. During these two weeks, a different group of students goes to school. The children are taught every two weeks. This means you only have half the school time available. If parents pay the school fees in full, the children can attend school without interruptions. In addition, in Ghana there is an obligation to wear a school uniform. The costs for this must be borne by the parents.
As you can see, education in Ghana is unfortunately not entirely free. Education is important and an essential basis for promoting sustainable thinking.
We definitely think that the women's cooperative in Ghana makes our shea butter unique. What do you think of our shea products? Do you now see her with different eyes?
With the story behind our shea butter, we see it completely differently. That's what's special about our collaboration with Rabiatu. You and the women's cooperative breathe life and soul into our shea butter. We are currently working on establishing further collaborations in this form to support local producers like Rabiatu.
Feel free to leave us a comment or connect with us on our social media channels. We would love to hear from you!
Did you like this blog? Then feel free to share it with friends and family via social media.
---